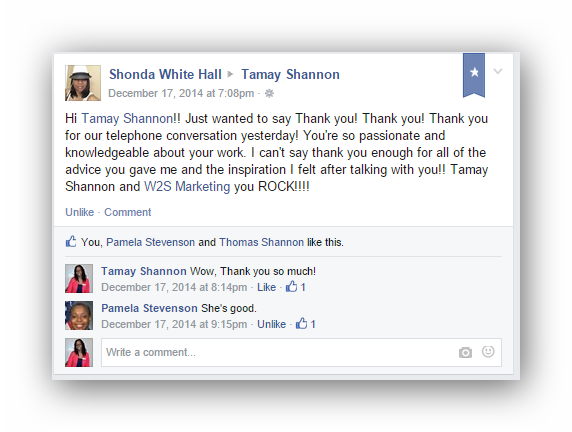 I have always been more than a little intimidated by anything beyond the simplest functions on my computer. But I wanted my business to be present and accessible via some of the major social media that my clients are using. I had no clue as to how to even begin until I worked with Tamay. Tamay is patient!!!  And so knowledgeable in her field. In just a few hours she helped me understand the basics of navigating on Facebook, Linked In and Google Plus --- and HootSuite!! It was painless and so worth her reasonable fees!
Tamay presented "What is Social Media and Why Do I Care?" at an American Business Women's meeting on Tuesday. I would highly recommend her as a presenter as she is current on all the in's and out's of understanding how social media can help your business grow.
Tamay Shannon of Where2Start Marketing is remarkably professional, thorough and impressively adept at her craft. Not only is she aware of industry standards and social media marketing trends, she has an innate ability to help you see how to apply this knowledge to your business practices. Her enthusiasm, encouragement and genial nature yielded my trust absolute trust in her expertise. Want to get a fresh perspective on your business? Need to find new and effective ways to connect with your clients? Are you struggling to find direction? Well look no further than Where2Start Marketing!!! Tamay will show you the way!!
Tamay helped me clarify two key points of marketing in just an hour!  Before I worked with Tamay I was looking to create a tag line for my business and a signature name for my unique program. During our work together she helped me to formulate a tag line that actually speaks to every aspect of my business. We were also able to come up with a name for my signature program that I just love! Now I have these two, they will be a key piece to my marketing next year and I know how to brand my company so others can immediately understand what is unique about us. I would highly recommend her!
Wow! After only a brief conversation with Tamay, I was looking at my coaching business in a whole new light. She took concepts that I had in the someday/maybe column and catapulted them into DO IT NOW- such as upgrading my website, getting testimonials from my raving fans and dialing up my social media presence. Her direct, no nonsense approach had me in action in areas where there had been no previous movement.(Now my website is almost done!) If your business needs a recharge (or a rocket launch), I suggest you give her a call