A weekly list of articles to skim (We highlight the important bits) so you can always be updated about business and social media tips that will impact you. If you have questions about how you can leverage these updates comment below!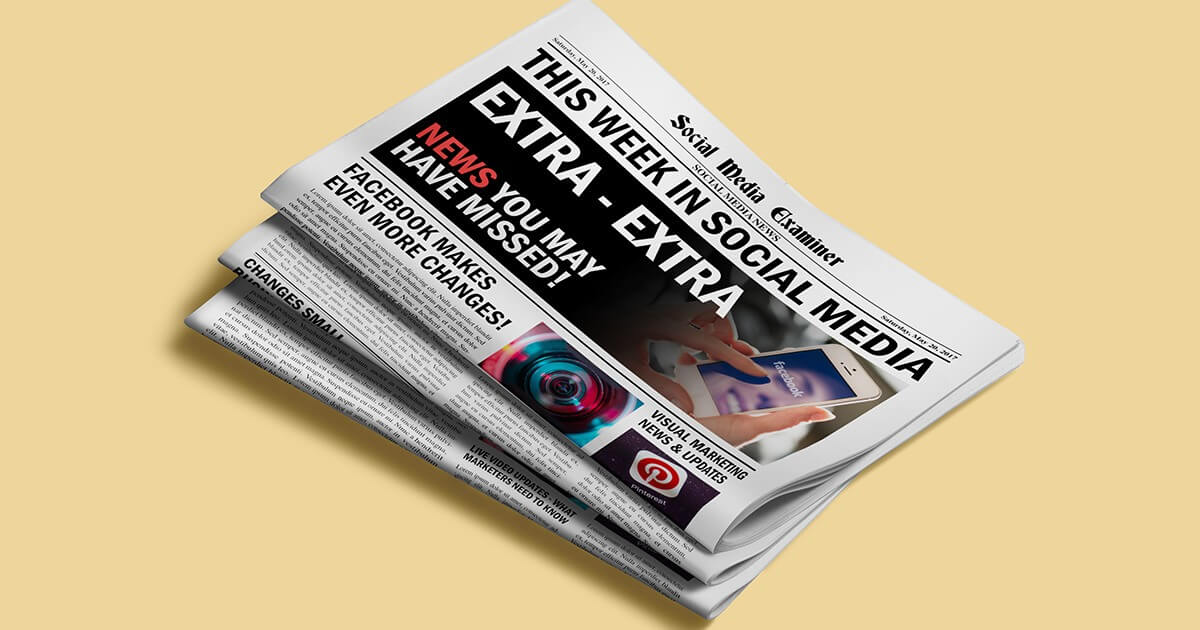 Social media news and developments making social media marketing easier. (Instagram Stories Update, Pinterest Visual Search Ads, Google Lens)
http://www.socialmediaexaminer.com/instagram-stories-updates-pinterest-visual-search-ads-and-new-google-lens/
On – 20 May, 2017 By Grace Duffy
Here are five new features being tested or rolled out by Facebook.
Change is the only constant in social media, and Facebook, in particular, is always trying out new measures and testing new tools to boost user engagement and keep you on Facebook for longer.
As such, there are always limited tests and features being pushed out, minor updates that may not make big waves, but are still relevant and worth highlighting.
To help provide some additional context on these smaller tweaks and tests, we're co-ordinating them into a weekly update to help keep you updated on what Facebook's trying out, where they're focused and what you should be watching for in future.
Here are five smaller tests or updates seen 'in the wild' this week.
1. Alternative Navigation in the Main App
Earlier this week, Mashable reported on a new Facebook test which replaces the 'hamburger' icon at the right of the lower function bar with a new, multi-purpose, direct connection option.
Image via Mashable
Interesting to note, too, that in this instance, it's actually been added to the function bar – most users will see only have five direct links, though in the screenshot here, there are six, with 'On this Day' also added in.
Once you tap on the new icon, you're taken to a listing of the various Facebook functions you can use, which you can then access within one tap.
Image via Mashable
The option makes it a little easier to get to all the various Facebook tools, and could help raise awareness of all the functions available. This test has actually been circulating for a while – The Next Web's Matt Navarra spotted the same in early May – but there's been no word yet as to whether it's going to be rolled out more widely.
Making it easier to access the various Facebook tools could have a range of benefits, for both Facebook more broadly, and businesses. For example, if Facebook were to add in their new 'Rewards' tab, which may, eventually, be linked to business offers, that could help raise awareness of special deals and promotions, which might help businesses better connect.
Really, anything that boosts awareness of Facebook's various options will have benefit for The Social Network. It'll be interesting to see what their initial testing shows and whether the change gets rolled out more broadly.
2.

Simplified Canvas Creation
Facebook's also looking to make their immersive Canvas ads a little easier to create.
As reported by AdWeek, Facebook's now automatically pulling images associated with a URL when you enter that webpage into the Canvas creation process.
Paste in the page you want to reference, and the images will be presented as selection options.
Canvas ads are presented in full-screen, immersive format, and there's a range of ways they can be used to get attention within the feed. Simplifying the creation process could make them a more significant consideration for more businesses.
3. Cross-App Notifications
Facebook's also testing out a new system which would enable users to get notifications from Facebook, Messenger and Instagram in one stream, and switch to each with a single tap.
The new process was first noted by Mari Smith (and covered by TechCrunch earlier this week) – as you can see, your notifications for each platform are presented in your feed and you can switch across to whichever you want to check,
Facebook's been gradually moving towards further integration of their key apps – they recently launched an integrated inbox which enables social managers to respond to Facebook, Messenger and Instagram interactions in one place. This new functionality takes that to the next level, creating a more seamless flow between the three platforms – though it could be distracting to see alerts from all in one place.
No word yet on whether this will see a wider roll out.
4. Conditional Answers on Lead Ads
Facebook's also adding a new capability to their Lead Ads option, giving advertisers the ability to use conditional answers in their process.
With lead ads, you can pose a set of questions to your audience, which are either standard queries pre-filled with information which already exists via a users' Facebook profile, or custom questions, where you have to enter in the options for the user to choose from.
Conditional answers expands upon the latter – as explained by Facebook:
"With conditional answers, you can create a set of custom answers that appear based on how someone answered a previous question. For example, say you sell t-shirts and sweatshirts. The first question on your form might be, "Would you like a t-shirt or a sweatshirt?" Within your inventory, you only stock red t-shirts and yellow t-shirts and green sweatshirts and black sweatshirts. Let's say the person filling out your form answers "t-shirts" in your first question. In your second question, you ask, "What color would you like?" Since the person selected "t-shirts," you'll use conditional answers to only show them answer options for red or yellow."
Basically, it's a means of further enhancing the information you're able to gather based on sequential questioning – Facebook ad expert Jon Loomer has provided an in-depth guide to the new option here.
The option gives advertisers another way to gather additional context, with varying ways in which the qualifiers could be applied. This can help you hone in on the key details you need to know to better qualify your leads.
5.  Search Personal Profiles
And the final update of note this week again comes from Mari Smith, who reported the addition of a new option to search personal profiles on The Social Network.
Smith notes that you can use this new search option on your own profile, or on anyone else's, helping you to locate relevant updates and posts – obviously limited by privacy restrictions.
Everyone's had those times where they're trying to remember that thing that friend posted so they can show someone else – this new option makes it easier to locate those updates quickly. It'll also help you locate previous articles or videos you've posted, eliminating the need to scroll through your feed to find it.
Of course, you've always been able to utilize similar search to varying degree, and this doesn't add anything new in terms of search depth, but it'll make the process more straight-forward, and could come in handy.
The option has not been rolled out to all users as yet.
http://www.socialmediatoday.com/social-networks/5-facebook-updates-and-tests-spotted-week
On – 20 May, 2017 By Andrew Hutchinson
Twitter has announced a suite of tools that allow you more access to your information and more control over how it's used. The company also updated its Privacy Policy to reflect this. Twitter is
Twitter has announced a suite of tools that allow you more access to your information and more control over how it's used. The company also updated its Privacy Policy to reflect this.
Twitter is rolling out some updates in the next few days that will affect the amount of control that you have as a user, over information about you that Twitter uses. The company wants to show you just how much it values their privacy, so it's giving you access to "a suite of industry-leading tools to give you more access to your information and greater, more granular control over how it's used. Finally, to reflect these "improvements," Twitter also announced that it has updated its Privacy Policy.
Here are the updates in full, as announced in a recent blog post,
Increased transparency: Twitter is expanding Your Twitter Data to give you the most transparent access to your Twitter information to date. This includes demographic and interest data, and advertisers that have included you in their tailored audiences on Twitter. Each category of data will be clearly marked, and you will be able to view or modify this data directly.
New controls: New Personalisation and Data settings that offer even more granular control over how Twitter uses your data, including how it personalises your experience on the platform, and whether information may be shared through certain partnerships. You can use these controls to better personalise your experience and decide to opt out of various types of data usage and sharing with a single switch.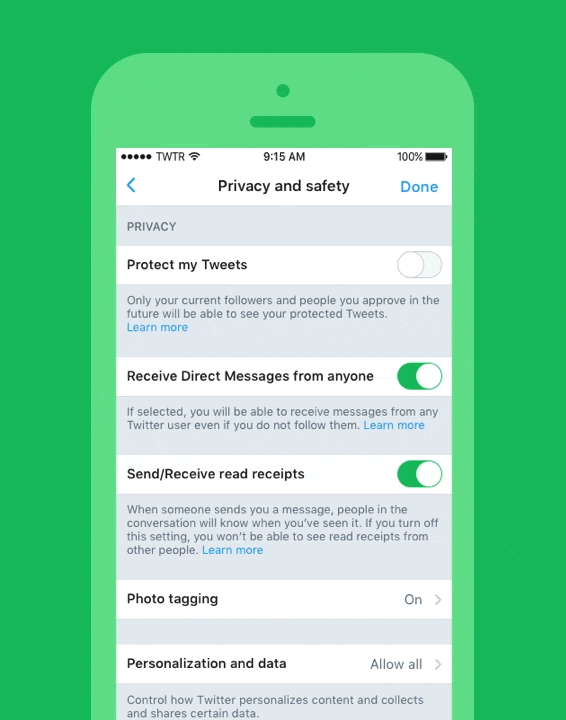 Personalisation across devices: When you log in, Twitter will associate your device with your account for purposes such as authentication and personalisation. Your experience may be personalised based on information from other devices you use to log in. You can turn this off if you like.
Policy Updates
Web data: Twitter has expanded how it uses and stores data from other websites that integrate Twitter content – embedded Tweets for example. The company also says that it does not store web page visit data for users who are in the European Union and EFTA States.
Data sharing: Finally, Twitter updated how it shares non-personal, aggregated, and device-level data, including through some select partnership agreements that allow the data to be linked to your name, email, or other personal information – but only when you give your consent to those partners.
---
Social Media Trends
http://wersm.com/twitter-rolls-out-new-data-controls-and-updates-its-privacy-policy/
On – 19 May, 2017 By George Carey-Simos
With the advent of technology, our lives have become a juxtaposition of bytes and pixels.
With the advent of technology, our lives have become a juxtaposition of bytes and pixels. We are run on schedules and powered by information. The world runs on information and the one who holds the key to it is the new king. Information is the new oil.
And the ones propagating this information are the moguls of our times. The social media, the uncrowned king of the virtual world, virtually taking over the planet with its reach and content, has been transforming. It has been making changes to remain relevant. In a crowded field of upstarts and the old world, change they say, is the only constant.
Let us have a look at the changes the social media might undergo in the year 2017:
The social media emperor at the moment and runs whatever it sees. Facebook has been evolving and today it is not only the most prolific social media platform but a heaven for businesses and marketing too. However, it is also a place for falsehood. There has been a surge in the creation and spreading of fake news and Facebook intends to tackle it seriously. False information poses a grave danger to society and countries at a large and hence the organization has come up with their new anti-fake news tools. Disputed contents are red flagged and observed before being trashed.
The Facebook of the professional world, LinkedIn has added new features in its photo uploading section. It has created newer editing tools which will help the uploader to crop and view pictures better. One can manipulate color settings and also take help from the six new color filters.
The social platform has recently upped their ante in the field of advertisements. Following Google's success in this area, pinners can now be counted as followers.
The other big daddy of social media, Twitter has changed the way a community communicates. There has been a lot of transformation that Twitter has bought unto itself. The earlier limit of 140 characters remains but the usernames once added in the replies will not reduce that number.
It has also changed the appearance of the replies. Moreover, additional filters have been added to help the user to do away with notifications and unwanted news feed and stuff one would not like to see or be associated with. Twitter is also offering a premium version of its Tweetdeck, and it is primarily targeting businesses and marketers.
The big daddy of virtual visuals, YouTube, too, has made some changes. From May 2, it has announced that is is going to do away with the annotation editor. Replacing it will be the End screen and cards. This, they feel will let the creator more access to a greater audience and hence a greater reach. These new features are both mobile and desktop compatible and will help videos cater to a larger audience better and also ratchet up better figures.
http://blogmart.org/important-social-media-updates-for-2017/
On – 16 May, 2017 By